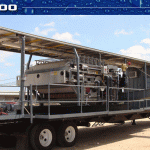 Belt Press has a large gravity zone and 2 dewatering (dandy) rollers.

Large air conditioned control room

Pumps and press have electronic VFD controls

Automated emulsion Polymer make down system

BP-1100 Trailer: Year – 1996, Make/Model-Utility/UT,

11′  11″ Wide x 49′ Long

Weight: 56,000 lbs.

VIN#-1UYTS2531TA861208

License Plate – Y62343
BP-1700 2.2 M Andritz SMX-7
Skid Mounted Belt Presses
(Skid Press)
Extended Gravity Zone

Pumps and press have electronic VFD controls

Automated emulsion Polymer make down system

4″ Sludge Feed pump

12′ extension for Conveyor cake discharge (20′ overall)

Comes with its own step deck trailer for low profile or trailer mounted applications

BP-2600 Trailer: Year-1998, Make/Model-Wabash

11′ 11″ Wide x 49′ Long x 13'6″ Height

Weight: 49,000 lbs.

VIN#-1JJF452WXWL504048

License Plate-016B014
(Skid Press)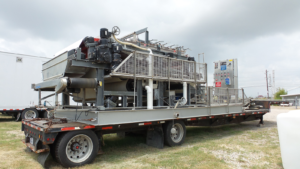 Extended Gravity Zone

Pumps and press have electronic VFD controls

Automated emulsion Polymer make down system

BP-2700 Trailer: Year-1997, Make/Model-Fona

11′ 11″ Wide x 49′ Long x 13′ Height

Weight: 48,000 lbs.

VIN#-13N24S30XV1570558

License Plate-016B012
(Skid Press)
 Stainless Steel Catwalks

Standard Gravity Zone

Pumps and press have electronic VFD controls

Automated emulsion Polymer make down system

4″ Sludge Feed pump

12′ extension for Conveyor cake discharge (20′ overall)

Comes with its own step deck trailer for low profile or trailer mounted applications

BP-3000 Trailer: Year-1999

11′ 11″ Wide x 48′ Long x 13′ Height

Weight: 48,000 lbs

VIN#-13N248305X5985892

License Plate-084C597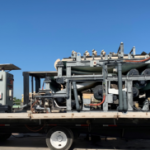 (Skid Press)
Stainless Steel Catwalks

Standard Gravity Zone

Pumps and press have electronic VFD controls

Automated emulsion Polymer make down system

4″ Sludge Feed pump

12′ extension for Conveyor cake discharge (20′ overall)

Comes with its own step deck trailer for low profile or trailer mounted applications

11′ 11″ Wide x 48′ Long x 13′ Height

Weight: 49,000 lbs.

BP-4400 Trailer: Year-1999, Make/Model-TALB

VIN#-40FL04821X1018728

License Plate-121C305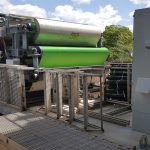 (Skid Press)
 Stainless Steel Catwalks
Standard Gravity Zone

Pumps and press have electronic VFD controls

Automated emulsion Polymer make down system

4″ Sludge Feed pump

12′ extension for Conveyor cake discharge (20′ overall)

Comes with its own step deck trailer for low profile or trailer mounted applications

11′ 11″ Wide x 48′ Long x 13′ Height

Weight: 48,000 lbs.

BP-4500 Trailer: Year-2009

VIN#-13N24820581546934

License Plate – 110B800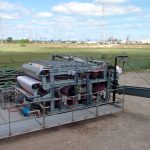 (Skid Press)
 Stainless Steel Catwalks/ Handrails
Standard Gravity Zone

Pumps and press have electronic VFD controls

Automated emulsion Polymer make down system

4″ Sludge Feed pump

12′ extension for Conveyor cake discharge (20′ overall)

Comes with its own step deck trailer for low profile or trailer mounted applications

10′ 7″ Wide x 25′ Long x 9'2″ Height

Weight: 48,000 lbs.

BP-4600 Trailer: Year – 2009, Make/Model – FonTaine

VIN#-13N24820591550130

License Plate – 110B801
GBT-1000 – 2 Meter Parkson
Gravity Belt Thickener is a 2.2 meter; skid mounted thickener.
The skid complete with; an automated flash blending polymer units, boost water pump, electronic controls, and a sludge discharge chute.
The GBT has a patented pressure plate installed at the end of the Gravity Zone to apply pressure to sludge at an adjustable rate.
The press will require a 480 three phase, 100 amp breaker power supply.
Water requirements for the press is fresh water at 50 gpm (35 gpm for spray bar) and 40+ psi.
Hoses for sludge feed are available upon request
PF-1000 100 CF Duriron Filter Press:
Filter press Dewatering equipment is a 100 cf Duriron Plate and Frame press mounted on a 48 ft. tri-axle trailer. Unit has 92- 1200 mm plates and pumps for
medium pressure applications. The belt press is trailer is 48 ft. A conveyor is mounted under the unit for dewatered cake. The press will require a 480 three phase, 100 amp breaker power supply although continuous usage is about 80 amps each.
Water requirements for the press are:
Fresh water at 100 GPM and 45+ PSI.
Hoses for sludge feed are available upon request.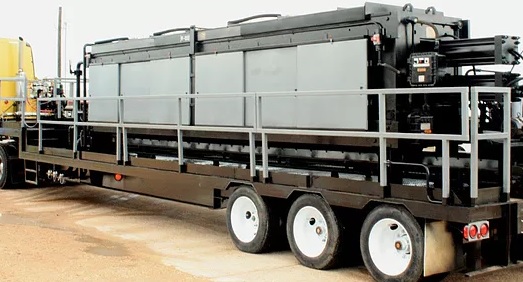 Mobile Centrifuge Trailers
Aspen Rental's mobile centrifuge trailers are designed for plug and play operations to setup and operate within hours. All mobile units contain heated / air-conditioned control rooms and spacious work areas for operation.
Aspen Rentals will happily provide quotes for setup and training services upon request. If you choose, our personnel have a combined 60 years of dewatering experience and are available as operators for any of the rental units.
Centrifuge Unit
An example of one of our rental units is a 18.5-inch wide by 56 inches long bowl with VFD electronic controls for bowl, conveyor, pumps and polymer. The conveyor is fully hardened. The centrifuge is a two-phase unit and will require a 480 three phase, 100-amp breaker power supply.  Unit comes with a 40 Hp main drive and a 15 Hp Back drive pulling 3200 g's. The centrifuge is mounted on a 48 ft long trailer with heated / air-conditioned control room.
Additional items:
One (1) feed pump with a capacity of 200-gpm
One (1) flow meter for measuring the flow rate
One (1) Aspen polymer emulsion blending system and emulsion feed pump.
One (1) Dewatered solids screw conveyor system
One (1) control system with VFD, panel view operator interface and scroll drive controller.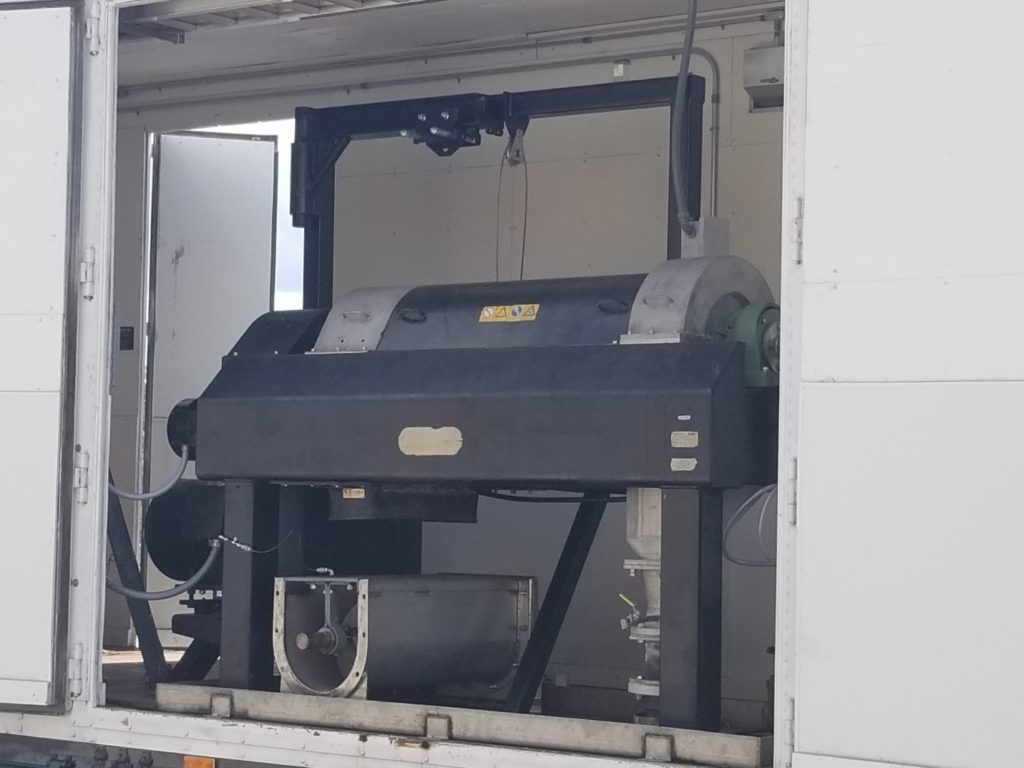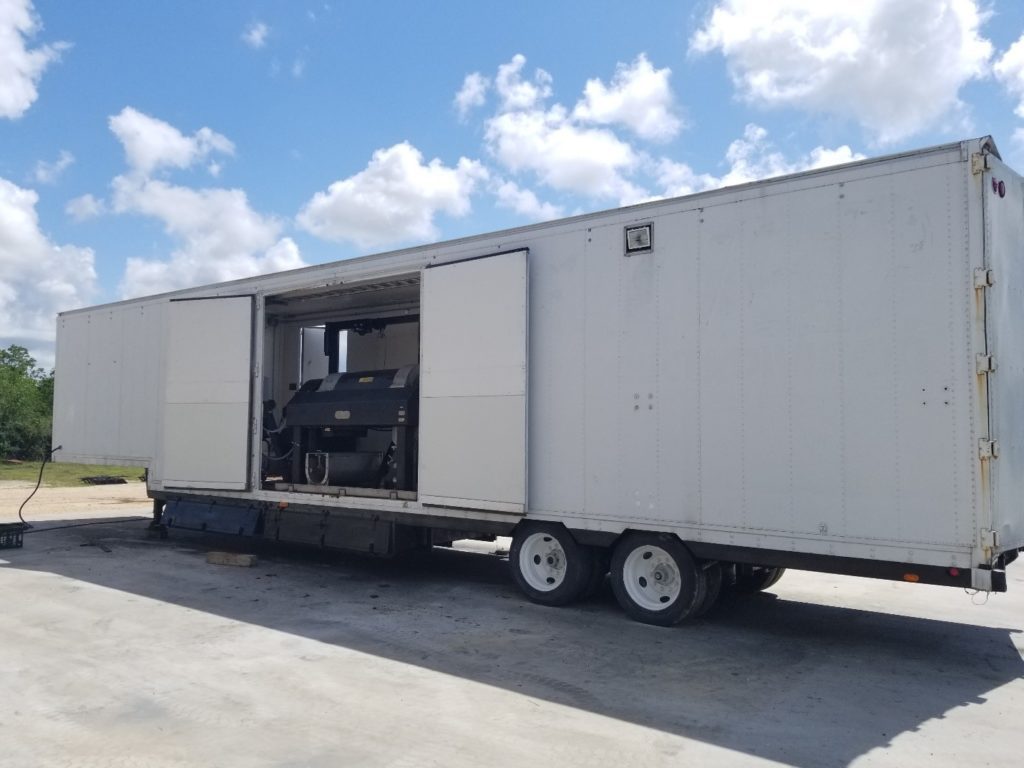 Polymer System Features
• Industrial Strength Stainless Steel Construction
• Designed For Easy Accessibility To All Working Components
• Single Stage Mixing
• Feed Rate Calibration
• Clear Visibility Mixing Chamber
• Water Flow Regulated Polymer Delivery
• Variable Feed Delivery Incremental Controller
• Low Point Drain Valves For Winterizing
• Sample Point For Jar Test Availability
Polymer System Benefits
• VFD For Faster Real-Time Adjustments
• Incremental Settings Allow For Minimum Polymer Waste Or Loss
• Long Term – Maintenance Free Operation
• Local Availability For Spare Parts (If Needed)
• Installation and Operation Is Very Simple
• Adaptable To Broad Spectrum Of Applications
• Low Cost For Operation Of Unit
• Long Term Reliability
• Very Fast Delivery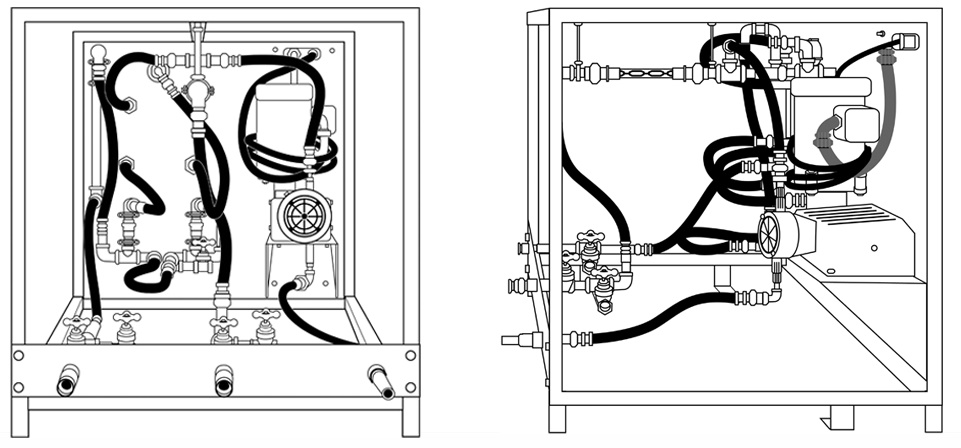 3" Progressive cavity, submersible pump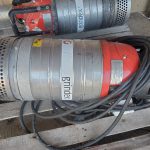 350gpm

480 volt, 3 phase with on/off switch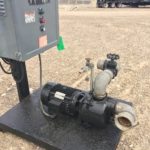 4" Centrifugal Self-Priming Trash Pump
350gpm

480 volt, 3 phase with VFD controls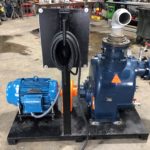 6" Centrifugal Self-Priming Trash Pump
350gpm

480 volt, 3 phase with VFD controls
4" Progressive Cavity, Rotary Lobe Pump
350gpm

480 volt, 3 phase with VFD controls
4" Grinder
480 volt, 3 phase with VFD Controls
15gpm Moyno Pump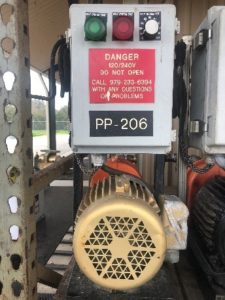 120 volt, single phase with VFD controls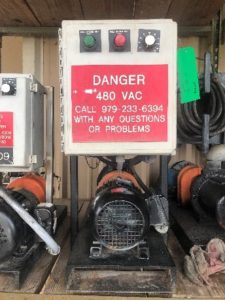 50gpm Moyno Pump
480 volt, 3 phase with VFD controls
40' Stacking Conveyor (36")
Maximum height, 15'

480 volt, 3 phase with on/off switch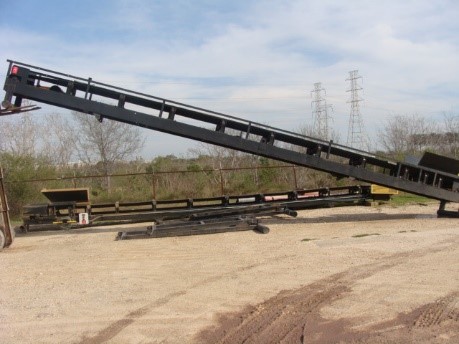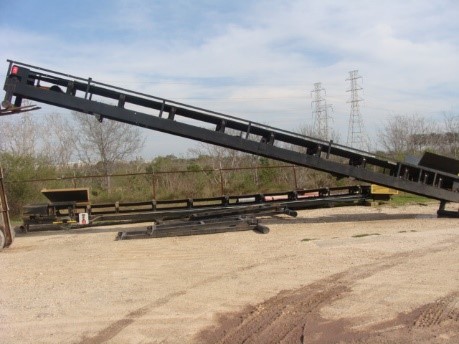 40' Stacking Conveyor (24")
Maximum height, 15'

480 volt, 3 phase with on/off switch